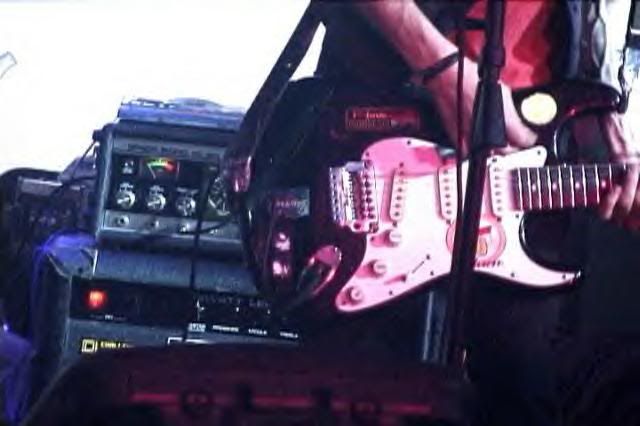 "Lets Focus On Me"
I'm Emma, 18, a Leo and I live in an ickle town called Melton Mowbray in Leicester. I'm an Artsy kid in Loughborough. I have two sisters, I'm the middling and that's how I like it. I over use the word 'innit' and I am a very random girl. I'm overly obsessed with music, cities, and Art.
I love shopping and Faye Pearson cause she's my hoe, yeah-O-yeah *mwwah!* Bubble Wrap's v.entertaining, I like to sip wine with Sarar! I love McChicken Sandwiches, friend's footage tapes and designing.
I don't like the amount of clone girls out there with jet black hair, i don't like wearing shoes, asks anyone, pubs, parties, I'll be there with zero shoes. I don't like crows, pot noodles or world war 3 going down in a girl's world once a month. Don't like toy grab machines, smell of money hands and I hate mobile adverts on my goggle box

Mood:
Nerding:
Myspace
Wearing:
Pj trousers, attitude clothing heart zipper top.. I look bad. Blood shot eyes.. mmm sexy.
Desktop:
--Tall Cans in the Air, let me see 'em ... fuck you!-- The Transplants
Listening:
The Ordinary Boys
Week In. Week out
Working On:
This
Nothing really... making money?
Comment:
I met Pete Doherty last night... || Dances || Oh and I <3 Wozza Core. My new dude friend is so fucking cool !! I'm coming to hang with you soon
[25/09/04] [20:45]


More Links: Urban Decay..Yum, ChavScum, Buy Me Stuff Cursor by mysteriolover.t35.com/index.html
!!! Please do not attempt to steal any photos or take credit for any of mine that you can get your paws on cyberspacedgeeks !!!
RECENT FUNNY PHOTO: --Click Here-- Goes to Sarah taken from Mosh Nightclub website, People who attend the club sho uld check out the site, the camera seems to be there every bloomin weekend


Dan Another funny photo In London when he got invited to Metal Hammer awards + spotted Matt in record store.. 'No we have to get a photo for the sake of Emma Wright!' - Cheers lav
Some funny Emo Sites found, first get your own MSN EMO name and then of course you wanna be in an Emo band and spread the sadness, so get your own band name here
My Band Name: The Gloria Real Estate
My Emo Name: .killed.in.tragedy.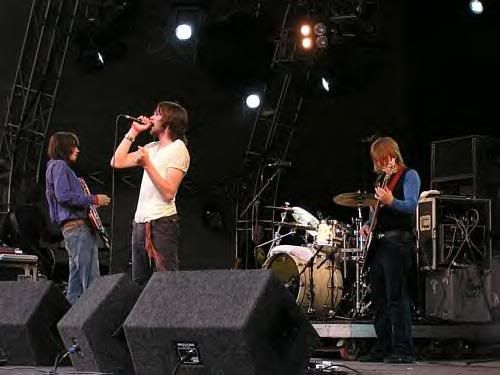 Leicester band KASABIAN... Huzzah Hoorah !!! Number 10 in the Charts
Thursday, December 02, 2004
Ok. So I have totally forgot about this over the months, so how the heck have you rememberd? I've been so busy with Uni. I've just been binning lots of photo files on my pc, so now my albums may just show up at red crosses, pfft. I got rid of so many old shitty snaps. Roll on the good newuns is what I say.

I've been out getting pissed outta my eye sockets, I'm finally living like a 'young girl' like me should, no ties, just drink, males and a dance floor. I was at The Union a couple Tuesdays ago with Liz, and saw Squires and co out which is always a laugh. I had a crazy weekend in London last weekend with Brains from Silbil 'n Brains, that contained of me getting completely fucked as Brains MADE me, I had hickups, knocked over someones drink, and was sick in a corner. We was out drinking for 12 hours. Harsh.

I was very sick Monday and Tuesday, and now its Thursday evening, I have alot of work to do, I'm in Nottingham this weekend to take some snaps for my photography journal, anyone up for buying me lunch? Gah.... fuck you. Right, off to install some programmes and... stuff. God only knows when I will be back.. you nosey goofs.
Posted at 01:00 pm by SlamPunk
Permalink
Saturday, October 23, 2004
|| HELLOOOOOOOOOOOO BLOGGERNESS !! || Bleeding eck ! It's been TOO long since I've tapped on this bitch, needs a BIG update, news + photo wise... I blame MySpace. I'll be leaving that so my assessment week, going to sort it all out... promise. Sorry to those who click on here daily and pfft, saw no change for months, am truely sorry. Busy bizkins Emkins at Uni. Will be at The Union next Thursday night, so new snaps too to make it more interesting. Sorry again... Much Love <3
---
Posted at 12:31 am by SlamPunk
Permalink
Saturday, September 25, 2004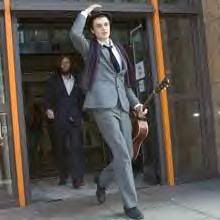 Crazy eventful Friday night with Chloe Morris, we got into Leicester for , the bus was late, the venue doors opened for Babyshambles at 7:30 and then I got us lost trying to find The Charlotte… I can't believe I forgot the way, my mind went so blank. Anyway, we found a road, but went down one too early, but I said that we should carry on down till we hit the bottom, seconds later, a bar light caught my eye, I looked in whilst walking and saw the face of Pete Doherty. I stopped, froze in shock and said 'Clo, Pete's in there!', 'whose Pete? Is he from our uni?' I laughed and was like, no the guy we're going to see tonight! Anyway, I planned to have a sneaky look back, & then suddenly Pete came up to the window waving, pressing his hands against the glass leaning close towards trying to lip read each other.

We then walked into the bar and Pete said, hey! Try bit of this… oooo yes so rock n roll sucking through Doherty's straw… yum yum! Me and Chloe was just saying how it was bit too posh for us students, Pete said 'is bit for us n all mate' god he has the coolest voice! He was so sweet; I love his voice, eating his jelly treats ordering lots of caffeine etc, with Chloe feeding their souls with free ciggys. We didn't stay long because Pete's girlfriend came back, and we didn't want to intrude. So we left, they said goodbye and how they'll see us later and then last thing, got a light!? Aw bless.. I'm so gutted I didn't take a photo! I was just sitting in shock in the company of Pete Doherty *pinches self* Fate, the way I got us lost, bus was late, and how we decided to carry on down the wrong road.The show was absolutely packed, hot and just a huge riot, we didn't stay the whole set sadly because we just could not see and they came on at 11:5o, and pervy bastard was just taking piss

I'm too sleepy and poor now, I have gashed my knee today due to me not with it, I met Doherty last night… getting bored yet? Mwhahah. x x x .

Posted at 12:32 pm by SlamPunk
Permalink
Wednesday, September 15, 2004
Blah Blah Blah. The Student Union.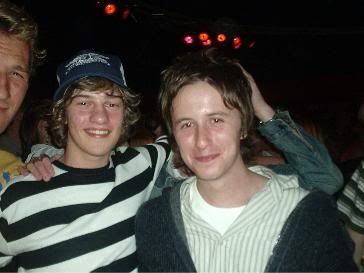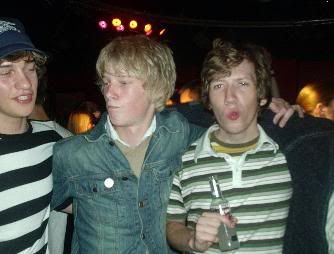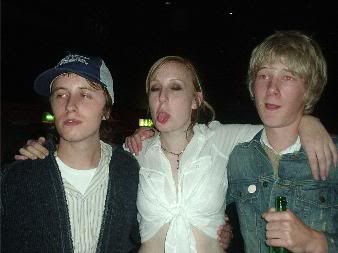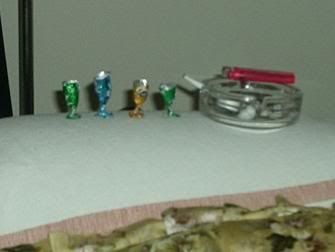 The League of drunkage. *Stretch* I'm so tired, had a really good night / morning. Went to Sophie's who cooked me fantabolous pasta and then we went to some bars, chilling out getting abit merry. Then we got lost trying to find the student union so we were told to follow this Chinese couple. We soon got there, it was abit rubbish the setting, but I liked the free shot with a drink malarkey and the amount of free drinks I supped down that night... super indeed. Also got to meet the coolest guys, Chris, John, Cawkey, Nick your all proper proper super!! I then remember being stood outside with my umbrella up with ppl telling me its not raining, and meeting more people on the course. Next thing, we're in someone's kitchen in the halls, wasn't the bestest party in the world but got to use their bathroom which saved me pissing in a bush mwhaha. Brutal. Thanks to the guys who took us all way back to The Phantom, brilliant. I and Chloe had the most amazingly comfy double bed like ever. Hooommm... nice, cheers again Sophie for letting us crash you Purdy lady, loves you lots! Out this Saturday in town too... fucking student.
---
Posted at 09:35 am by SlamPunk
Permalink